Fancie, Dream Pickets I've Got It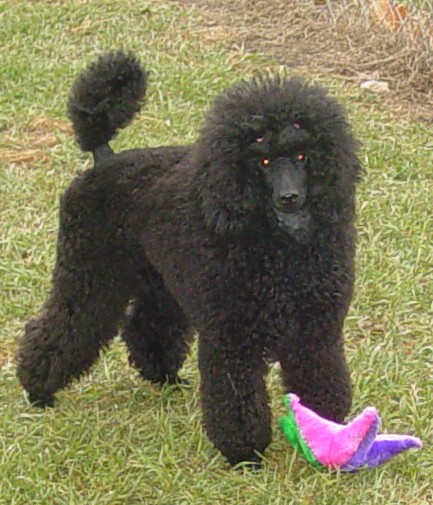 Pictures taken 28 October, 2003.
The toy was hotly contested and I got her
just as she was fixing to snatch it and run.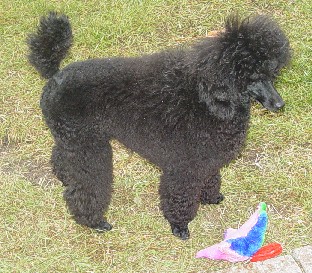 But, look who got it in the end..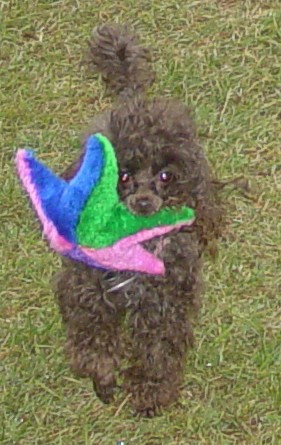 My mom's little brown toy, Candy!! was the winner.

Fancie was diagnosed with optic nerve hypoplasia in one eye and is not suitable to be used for breeding.
We disclosed this condition and found her a wonderful home with Jerry and Florraine Williams.
She is a companion for Jerry and Florraine.
Jerry stays in contact with me, and I'm always glad to hear from them.
Here is Fancie during the winter snow: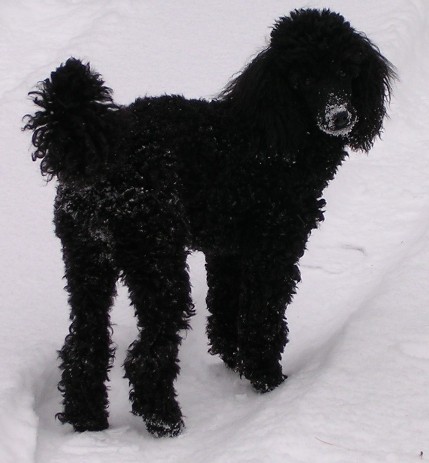 and on the deck at their house. She is much loved and I'm so glad that she is making their lives happier.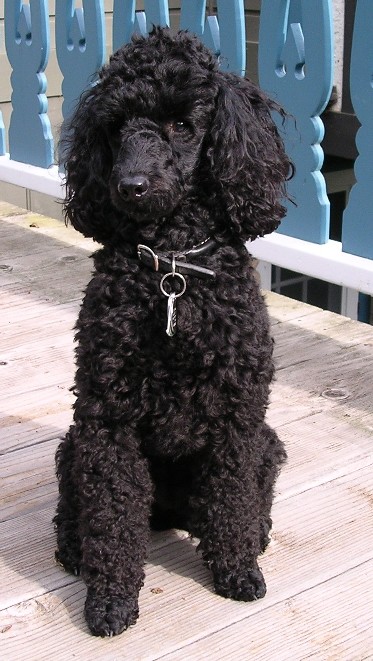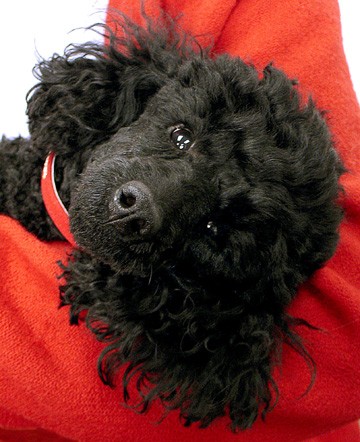 Christmas, 2005


AM CH PARADE TELL ALL
AM CH PARADE KISS AND TELL
AM CH LE FLEUR BOOMERANG TO PARADE
AM CH MARSDEN BLACK KNIGHT
N.Z.CH. MARSDEN TOM FOOLERY
AUS CH MARSDEN WISH UPONASTAR
AM CH PARADE NOELLE TROY LE FLEUR
AM/AUS CH TROYMERE MAN AFFIRMED
AM CH PARADE PILLAGE AND PLUNDER
AM CH BAR KING'S FIRST KISS
AM CH WILHOIT'S WHOODENI
AM CH PENCHANT PALADIN
AM CH FONTELLA'S ALPINE BOXTHORNE
AM CH BAR KING'S SCINTILLA
AM CH CINBREN CHERWILENE MIRAGE
AM CH BAR KING'S QIANA
AM CH PARADE BLACKACRE TASSEL
AM CH PARADE PROTEGE
AM CH CAMPBELL'S GIFT TO PARADE
AM CH PENCHANT PALADIN
AM CH PARADE PRECIPITATION
AM CH PARADE PHACELIA
AM CH LE FLEUR BOOMERANG TO PARADE
AM CH PARADE PILLAGE AND PLUNDER
AM CH PARADE TRIMMED IN LACE
AM CH PARADE KISS AND TELL
AM CH LE FLEUR BOOMERANG TO PARADE
AM CH BAR KING'S FIRST KISS
AM CH PARADE LEFLEUR LEATHER N LACE
PARADE ULTRASUEDE
AM CH PARADE NOELLE TROY LE FLEUR

Am/Can/Int CH Tanzen Muffin's Dream TP



AM CH DESIGNER'S SHOW AND TELL
AM CH PARADE KISS AND TELL
AM CH LE FLEUR BOOMERANG TO PARADE
AM CH MARSDEN BLACK KNIGHT
AM CH PARADE NOELLE TROY LE FLEUR
AM CH BAR KING'S FIRST KISS
AM CH WILHOIT'S WHOODENI
AM CH BAR KING'S SCINTILLA
AM CH DESIGNER'S FANCY DANCER TP
AM CH DESIGNER FLASHDANCE MAN
AM CH AMULET SO DIVINE CHAUD CHIEN
BEAUCANICHE CUPID'S RAVEN
GOLDARA'S MISS PERSONALITY
AM CH ROSES IRIDESENCE OF GOLDARA
AM CH CORNLEACROFT LADY BIRD
AM CH TANZEN PRIVATE LABEL TP
AM CH TANZEN'S PRIVATE RESERVE CD
MCKERNAN RAGTIME D'RIGHT STUF CD
AM CH REVELSTOKE REVEILLE

MCKERNAN RAGTIME EBONY I'S

TANZEN'S LIBERATED LADY
AM CH MCKERNAN KARBON KOPY CD
TANZEN'S SURELY YOU JEST CD
AM CH WILDWAYS BARKING'S BABETTE
AM CH WILHOIT'S WHOODENI
AM CH PENCHANT PALADIN
AM CH FONTELLA'S ALPINE BOXTHORNE
AM CH BAR KING'S SCINTILLA
AM CH CINBREN CHERWILENE MIRAGE
AM CH BAR KING'S QIANA