Emma won her first four point major (BOV, BW, WB) under Anna Warner her first weekend out in AKC at 10 months old.


Presented in UKC by Janice Bennet and Eva Marie Mitchell
Emma is ranked #2 poodle in UKC for 2004. Emma continued in the top 10 in 2005 with extremely limited showing.
UKC CH was accomplished in a couple of weekend outings.
To the right is Emma's Championship UKC, Group 1 picture, shown by Janice Bennett, judge is Linda Reece.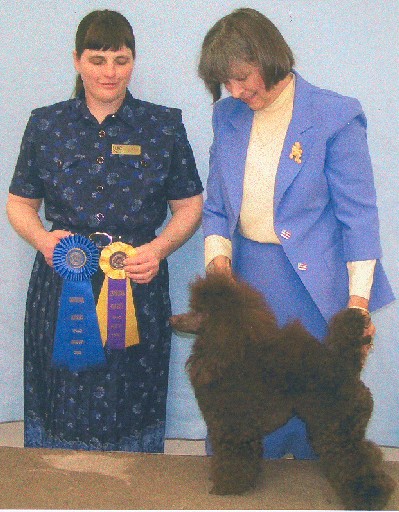 Below is Emma's First Show Win..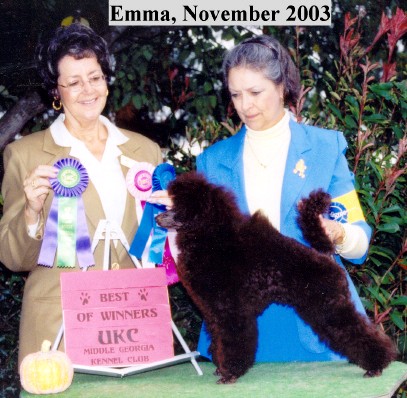 AM CH PARADE TELL ALL
AM CH PARADE KISS AND TELL
AM CH LE FLEUR BOOMERANG TO PARADE
AM CH MARSDEN BLACK KNIGHT
N.Z.CH. MARSDEN TOM FOOLERY
AUS CH MARSDEN WISH UPONASTAR
AM CH PARADE NOELLE TROY LE FLEUR
AM/AUS CH TROYMERE MAN AFFIRMED
AM CH PARADE PILLAGE AND PLUNDER
AM CH BAR KING'S FIRST KISS
AM CH WILHOIT'S WHOODENI
AM CH PENCHANT PALADIN
AM CH FONTELLA'S ALPINE BOXTHORNE
AM CH BAR KING'S SCINTILLA
AM CH CINBREN CHERWILENE MIRAGE
AM CH BAR KING'S QIANA
AM CH PARADE BLACKACRE TASSEL
AM CH PARADE PROTEGE
AM CH CAMPBELL'S GIFT TO PARADE
AM CH PENCHANT PALADIN
AM CH PARADE PRECIPITATION
AM CH PARADE PHACELIA
AM CH LE FLEUR BOOMERANG TO PARADE
AM CH PARADE PILLAGE AND PLUNDER
AM CH PARADE TRIMMED IN LACE
AM CH PARADE KISS AND TELL
AM CH LE FLEUR BOOMERANG TO PARADE
AM CH BAR KING'S FIRST KISS
AM CH PARADE LEFLEUR LEATHER N LACE
PARADE ULTRASUEDE
AM CH PARADE NOELLE TROY LE FLEUR

Am/Can/Int CH Tanzen Muffin's Dream TP



AM CH DESIGNER'S SHOW AND TELL
AM CH PARADE KISS AND TELL
AM CH LE FLEUR BOOMERANG TO PARADE
AM CH MARSDEN BLACK KNIGHT
AM CH PARADE NOELLE TROY LE FLEUR
AM CH BAR KING'S FIRST KISS
AM CH WILHOIT'S WHOODENI
AM CH BAR KING'S SCINTILLA
AM CH DESIGNER'S FANCY DANCER TP
AM CH DESIGNER FLASHDANCE MAN
AM CH AMULET SO DIVINE CHAUD CHIEN
BEAUCANICHE CUPID'S RAVEN
GOLDARA'S MISS PERSONALITY
AM CH ROSES IRIDESENCE OF GOLDARA
AM CH CORNLEACROFT LADY BIRD
AM CH TANZEN PRIVATE LABEL TP
AM CH TANZEN'S PRIVATE RESERVE CD
MCKERNAN RAGTIME D'RIGHT STUF CD
AM CH REVELSTOKE REVEILLE

MCKERNAN RAGTIME EBONY I'S

TANZEN'S LIBERATED LADY
AM CH MCKERNAN KARBON KOPY CD
TANZEN'S SURELY YOU JEST CD
AM CH WILDWAYS BARKING'S BABETTE
AM CH WILHOIT'S WHOODENI
AM CH PENCHANT PALADIN
AM CH FONTELLA'S ALPINE BOXTHORNE
AM CH BAR KING'S SCINTILLA
AM CH CINBREN CHERWILENE MIRAGE
AM CH BAR KING'S QIANA